| | |
| --- | --- |
| Article number: | TAL-DS-TK2 |
DUO Solar 20W - Travel Kit

The solar package contains a 20W solar panel, a smart controller, battery accessories, suction cups and a nylon travel case. The DUO variant is available for 12V and Lithium batteries. During the day the panel provides power from the sun and in the evening the controller functions as a monitor.
The panel can be mounted in- or outdoors on the window. Weather changes don't affect the panel or the connection cables, as they are weather resistant.


The smart controller automatically charges the power to the type of battery. The DUO can even save batteries from 4V.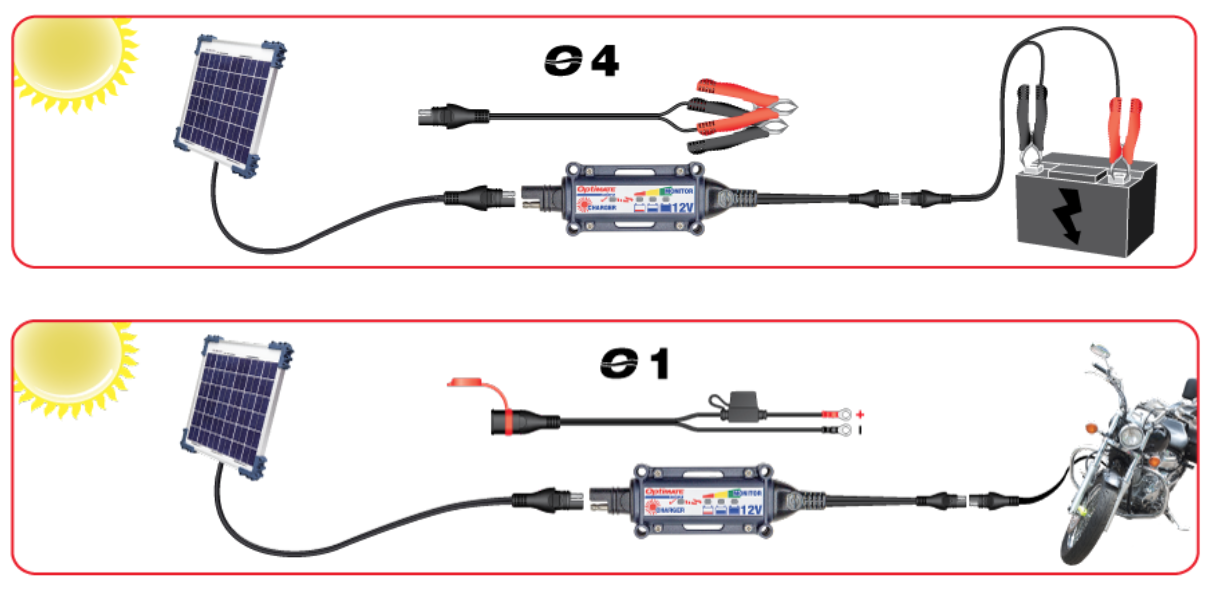 Solar Panel:
POWER: 20 Watts (max.)
VOLTS: 12V/12.8V
USE: Outdoor / indoor
STYLE: Weatherproof, aluminium frame with 4 x mounting brackets, output cable 200cm / 80″ with SAE connector
Outer size (including mounting brackets): Width = 36.2 cm / 14.3" Height = 45.5 cm / 17.9" Depth = 2.6 cm / 1 "


OptiMate Charge controller:
CHARGING AMPS : 1.67A from 20W panel (max. average current), 3-5A pulse current
USE: Indoor / Outdoor (lowest temperature: -4°F / -20°C)

SAVE: Low Volt Start of 4V
IDEAL FOR: STD, AGM & GEL 12V batteries from 2 – 240Ah and Lithium LFP-batteries from 12,8 V / 13,2V
INPUT: 15 – 22V
STYLE: Weatherproof charge controller case

SAFE: No risk of overcharging. Totally safe for vehicle electronics. Sparks suppressed. Safe for long-term battery maintenance. Automatic shut-down if short-circuited or battery disconnected
INCLUDED: Weatherproof battery lead, standard battery clip set, 20W solar panel, suction cups (4 pieces) and a travel case 

Download manual
Important information:
Excluding VAT and transport costs
Tim L
07-05-2021 12:50
Brilliant piece of kit - as always solar positioning and size is important. Trying to charge from inside the car with tinted windows on the flat, results in a low charge going into the battery. Fine for maintenance – not good for saving the battery. Mounting outside on the flat results in the battery being saved within two sunny days.
The Duo charge controller and monitor is the highlight of this kit with it ability to save/charge AGM and Lithium batteries and tell how much charge its getting and what its doing with it or just monitor if no charge from solar panel.
The OptiMate Solar Charger Size Choice Guide may prove useful – otherwise contact promo orange direct – they are very helpful and prompt.
5
stars based on
1
reviews